Welcome back for another round of checkIN & checkOUT – a weekly dose of recipes, cocktails, products or projects that I'm loving right now. It finally feels like spring is here to stay and I for one am psyched for the warmer temps and sunshine! Today's post has some fun spring finds that I'm excited to share. I hope you enjoy!
checkOUT: Cilantro Lime Chicken with Avocado Salsa
I love, love, love cooking on the grill. I'm that person that will head out to the grill on the first semi-warm and sunny day in March and I refuse to quit grilling until the snow starts falling!  I just think it's easy and fast and my whole family loves the flavors of grilled food…who doesn't? This Cilantro Lime Chicken with Avocado Salsa from Krista at Joyful Healthy Eats looks amazing and I'll be trying this one soon!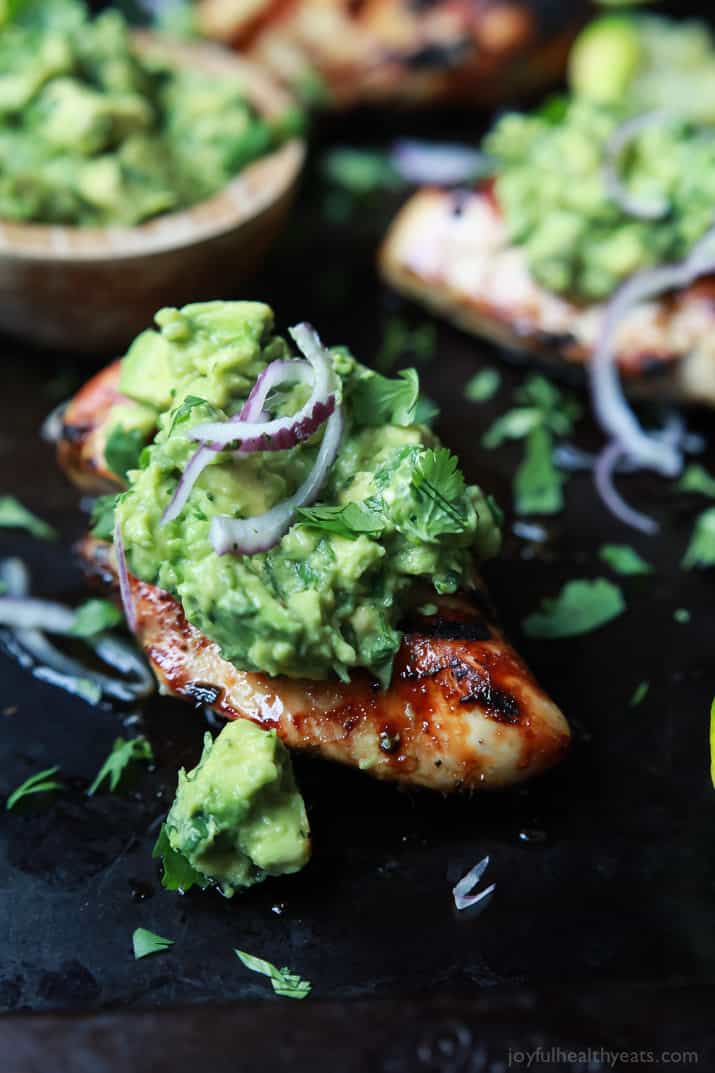 checkOUT: Mojito Fruit Salad
Fruit salads are a big hit at my house. My daughter in particular would live on fruit if she could! I'm thinking this Mojito Fruit Salad from Kristin of Iowa Girl Eats tastes as good as it looks. I've been following Kristin for a long time and everything she does is just awesome!
checkOUT: Blackberry Whiskey Lemonade
A few weeks ago, my husband was checking out something on Pinterest that I had sent to him, and like everyone else, he got sucked into Pinterest blackhole, lol.  So he came home with a pint of blackberries because he came across this Blackberry Whiskey Lemonade recipe from Jessie at Life as a Strawberry and he wanted to try it that very night! And I was not going to argue. It. was. delicious. We'll be making these again for sure.

checkOUT: the 2016 New Orleans Collection from OPI
Sun's out, toes out! Just like grilling, I will start wearing sandals as soon as possible and for as long as possible. I absolutely hate socks and flip flops are my jam. Which means pedicures need to happen a little more often now that we've packed away the winter boots. I'm so excited about the New Orleans collection from OPI! My faves: Let Me Bayou a Drink, Spare Me a French Quarter? and Got Myself Into a Jam-baylaya…fun colors and even more fun names!
checkOUT: Top 10 (Handmade) Mother's Day Gifts 2016 roundup
Mother's Day is quickly approaching!  Send this link to your husband (wink) or head on over to check out this beautiful collection of gifts that Steph of Fribblespoon Creative has put together to find some ideas for your own mom. Steph creates custom embroidery hoop art using quotes of your choosing…they are so unique, personal and pretty. And I was lucky enough to have my Preserves Designs personalized recipe prints included in her round up!

I hope you enjoyed this week's list, and please come back and checkIN next week to checkOUT some more great finds!
And if you try any of these recipes, products or projects, please take a photo and share with me on Instagram with #checkincheckoutfriday!