Happy Friday the 13th!  Today is a special birthday edition of checkIN & checkOUT, in honor of yours truly! It has been a long, rough week filled with sick kiddos, a crazy schedule, way too little sleep, way too many things to do…all I can say is TGIF! It wasn't all bad this week, though…I was very excited to be a featured blogger over on The Sits Girls website yesterday, so please head over there and check out one of my favorite side dish recipes.  I also am very excited to be featured over on SimplyAnnie.com today…Annie is an awesome mom I've met through the "blog world" and she writes about motherhood and life, so go check that out as well. I'm sharing an a great brunch recipe you won't want to miss!
Let's see, what else? Oh fun news!!! Gina over at Mom Life Must Haves is now taking orders for her cool mom stuff and she's offering my readers a 10% off Discount!  Just enter "Preserves Project" when you check out. Your Welcome!  I have the tote bag and the travel coffee mug and I love them both! I might need the hat next…or maybe a wine glass…
Ok so here is this week's list of things to checkOUT. I'm so ready to get back in the garden and start using fresh herbs and veggies. Here are some of things I want to try!
checkOUT: All About Raised Beds
We have neglected our backyard garden the past few years and we decided this year we'd bring it back to life. I can't wait! I'd love to update our raised beds and make them as beautiful as the ones featured in Ananada's post.  Ananda from a Piece of Rainbow is a landscape designer and blogs about design and art and nature. Anyone out there have a garden? What veggies have you had the best luck with?
checkOUT: Feta and Herb Crusted Salmon
Once I get my garden planted and growing, I'm hoping to harvest lots of fresh herbs to cook with. At the top of my list of things to try is this salmon recipe from Kathi at the Laughing Spatula. How amazing does this look?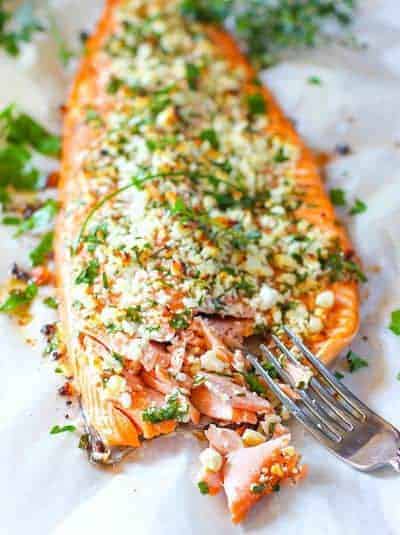 checkOUT: Fresh Tomato and Herbed Ricotta Bruschetta
So here's another thing I'll certainly be trying with garden fresh tomatoes and herbs…Susan over at Simple Healthy Kitchen is on to something with this recipe!  I love bruschetta and this combo just looks out of this world!
checkOUT: Raspberry Limoncello Prosecco
I love Prosecco.  I also love Limoncello. And who doesn't love raspberries? All combined, with a little fresh mint, and I'd say you have one heck of a cocktail. In fact I think this looks like a perfect birthday cocktail! Head over to Aberdeen's Kitchen for details!
checkOUT: Chocolate Peanut Butter Bars
Finally, I'm just going to just throw this recipe out there, in case anyone wants to whip up a batch for my birthday!  Can you even stand these things? They look incredible!!! "These sweet treats include a thick layer peanut butter filling sandwiched between dark chocolate shortbread and decadent chocolate ganache." Thank you Suzanne of Flour Arrangements for sharing this recipe with the world! (How cute is her website logo, btw?)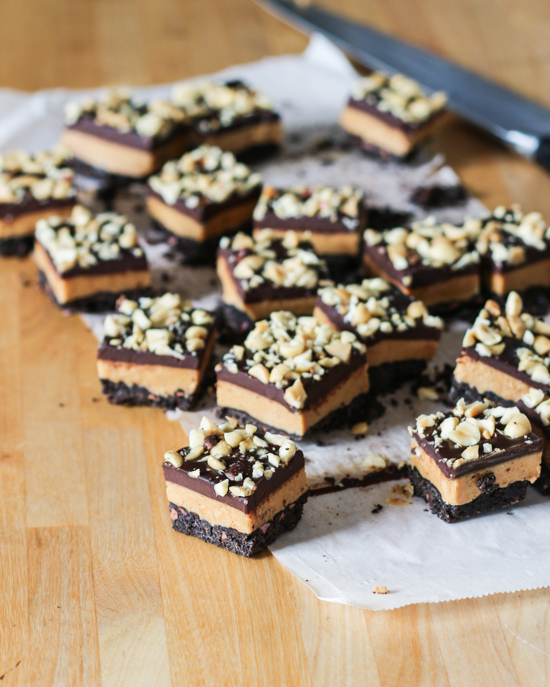 I hope you enjoyed this week's list, and please come back and checkIN next week to checkOUT some more great finds!
And if you try any of these recipes, products or projects, please take a photo and share with me on Instagram with #checkincheckoutfriday!