Happy Friday, all! It's been a few weeks since the last time I shared a checkIN & checkOUT post. The August schedule around here is bananas…it's when we do our family vacation to the lake, and football starts up and we've been getting ready for back to school. Time just slips through my fingers during the month of August, anybody else? Like, how is it September next week?
However, before we get to September, I have to mention that my baby, my first born, is turning 10 on Monday. Cue the violins! How has a decade gone by already? It's strange though. Maybe it's because he was an old soul from the start, but I love watching him grow up. He is so smart and inquisitive and determined. Don't get me wrong, the boy can make me crazy. But I just love watching to see what he'll do next. The kid's going places.
Enough sap. Back to the fact that September is around the corner, which means Labor Day. And the end of summer. Autumn is my favorite season but that doesn't mean I'm not sad to say goodbye to our fun, carefree summer days. I'll defintely miss pool days, and s'mores and flip flops. So, in the spirit of one last summer hurrah, here are 5 things you should checkOUT for your Labor Day weekend:
checkOUT: Grilled Sweet Chili Lime Chicken
Be sure to make the most of the grill while you can. Before you know it, it will be time to wheel it back into the shed or garage. This Grilled Sweet Chili Lime Chicken from The Recipe Critic, Alyssa, would be perfect for a Labor Day BBQ! It looks amazing.

checkOUT: Simple Summer Tomato Salad
The name of this recipe says it all: Simple Summer Tomato Salad. The tomatoes this time of year are absolutely mouth-watering, so eat as many as you can right now! I love that this salad is no frills and would be perfrect along grilled anything. Get the details from Des at Life's Ambrosia!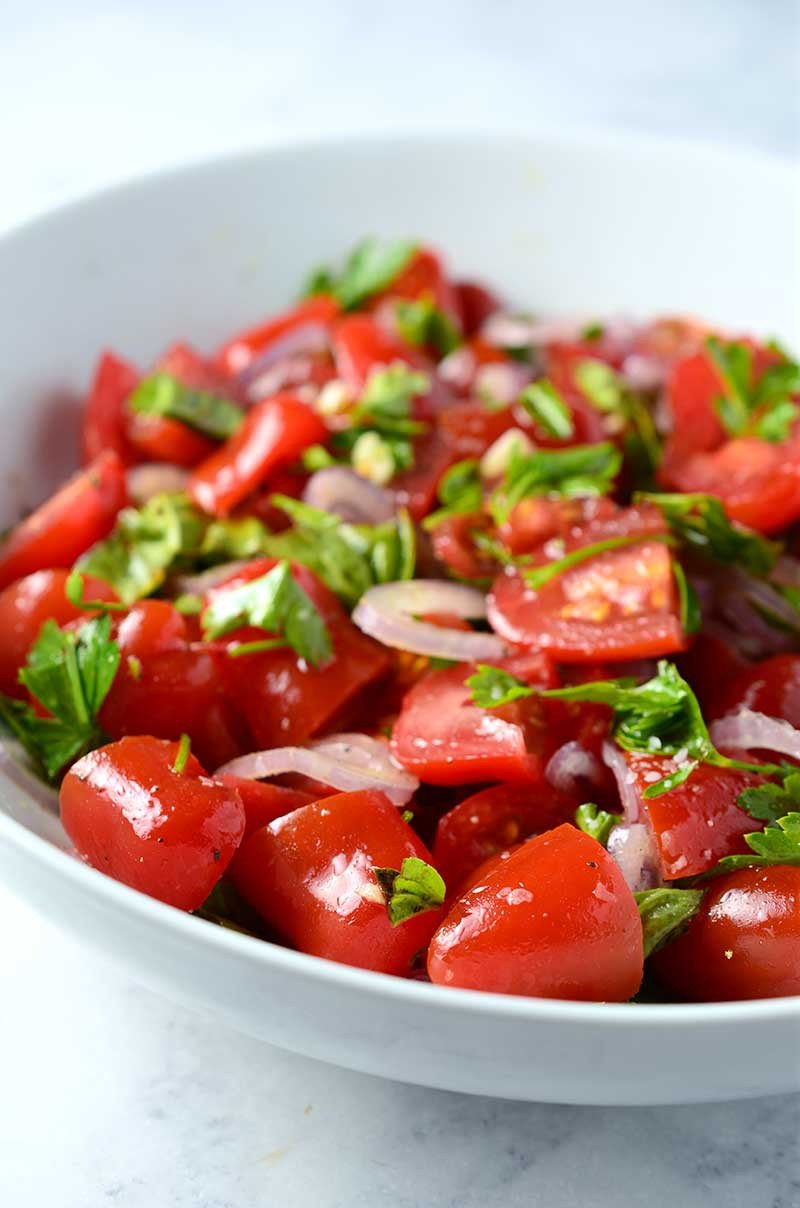 checkOUT: Lemon, Rosemary and Sundried Tomato Potato Salad
This recipe looks like a winner! Another one perfect for a Labor Day party…simple and delicious flavors, and can easily be doubled or tripled to feed a crowd. Visit Scott and Chris' blog, The Cafe Sucre Farine, for the details!
checkOUT:  Red, White and Blue M & M Chocolate Chip Bars
These Red, White & Blue M&M Chocolate Chip Bars are the perfect thing for Labor Day weekend! Simple, quick and easy, they are perfect to bring to a bbq or picnic or make to serve at your own party. I shared this recipe for the 4th of July…you can see the original post here.
checkOUT: White Wine Slushies
I will for sure be making Christina's White Wine Slushies on Labor Day weekend. Just like tomatoes, peaches are at their best in late summer and this recipe combines their sweet flavor with crisp white wine: Slam- Dunk. Head over to Desserts for Two to read all about this concoction!
Well I hope you all enjoy your last few days of summer break and survive the back-to-school madness. Isn't it so lovely to know we have one more long weekend to enjoy?
If you happen to try any of these treats, please snap a pic and share with me on Instagram with #checkincheckoutfriday!
Just a reminder, I collect all the recipes, ideas and products I mention in my checkIN & checkOUT posts each week on a Pinterest Board for easy reference…follow it here!
And come back and checkIN next week to checkOUT some more great finds!